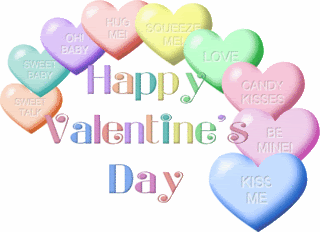 Happy Valentine's Day!

Or ...

As a friend of mine says ... Happy Single Awareness Day!

Some people spend the evening cuddled with a honey or out for a nice dinner or some other romantic/fun activity.

Me?

I was at the grocery store. Oh. Yeah. It was me and my paycheck romancing in the frozen food section over which Ben & Jerry's flavor was going to be for tonight's episode of Supernatural. (I went with Phish Food. It's a quirky little flavor and tonight's ep, Mystery Spot is supposed to be a quirky fun episode.)

Actually ... I indulged myself and went to my favorite local grocery store instead of the low price national chain store that I usually go to when I need to get more than just a few things. I thought I'd be okay. I had a list. I'd made a list of everything I want to prepare this next weekend/week and I could stick to my list. Right??? Yeah ... so ... needless to say, I succumbed to the impulse buy ... more than once.

Is it my fault that the bananas looked so beautifully yellow and yummy, even though my kitchen is stocked with grapes and apples already?

Is it my fault that it is supposed to be a lovely 31 degrees tomorrow after enjoying the tropical breezes of 68 degrees today - therefore enhancing my craving for homemade chicken noodles ... meaning I had to get the ingredients to create the object of my craving?

Is it my fault that after how many weeks (4 to be exact) they finally decided to stock my favorite sourdough english muffins, necessitating the purchase of two packages (one to have out and one for the deep freeze)?

Is it my fault that this is the store that carries one of my favorite brands of tea and they just HAPPENED to have my favorite blueberry flavor that I only had one more bag of left?

I'm telling you ... impulse buys ... they could really hurt a girl's budget. So ... when indulging in the impulse buying, it is wise to keep an eye on the bottom line. For instance ... the item I got that was 2 for $2.00 that rang up at $1.52 each. Hey!! That's my $1.04! You can't have it. Took them 10 minutes to track down that price check, but that $1.04 paid for ... ummm ... half of the bananas I bought impulsively!

sigh.

I'm hopeless.

No ... actually ... this is where the hopeless person part comes in ... I have just spent an hour at the grocery store. I have re-stocked my kitchen and have the supplies to prepare just about anything I want to eat.

So, of course you know what I did for dinner? I stopped on the way home and picked up a Subway sandwich.

To go with my Phish Food ice cream.

Happy Single Awareness Day, indeed.

Thank goodness it's Thursday ... atleast I can honestly say that I spent Valentine's day with a couple of good looking men. Of course I'm on my couch in my flannel jammies and they're on my television screen ... but hey!
We all know I've got a great imagination.