This blog entry is dedicated to my eldest girlie.
Band geek that she is, it's no surprise how much my girlie loves music. Our earliest Saturday mornings (and any other time) were spent in repetitious viewings of various Disney "Sing-a-Long" videos. Then came the Disney animated movie Lion King. She and I saw it in the theater atleast 3 times ... I'm thinking it might have been more. From the first moment the sun began to rise on the screen with the opening strains of music, until the very last note was sounded at the end of the credits (seriously - we would watch them to the final end), she would sit in her seat, face rapt, eyes glued to the giant screen, her whole body attuned to everything she saw. Her only movement was when the music would begin for the various songs, as though she were keeping time with the music with her little body.
Did I mention she was 3 years old when Lion King hit the theaters?
The purchase of the video when it later came out became a blessing and a curse. A blessing because it was a guaranteed 90 minutes that she would sit ... motionless ... in one spot ... allowing me the opportunity to accomplish something (cleaning, cooking, dressing, etc.) without a small child in my face "what 'cha doin'?" or "can I do that?" or "I wanna try!". The curse was that in a small apartment there was no place to evade the sound coming from the television and so, no only was every lyric of every song burned into my brain, but for years I could actually recite whole passages of dialogue when given a one word cue.
However, she loved it then ... and 14 years later, she loves it still.
As the years have passed, she has broadened past the Disney genre of musicals. Broadway musicals have since captured her attention. Being a catlover, the musical Cats was one of the first to catch her attention. Others have also struck a chord with her, such as Oklahoma! (naturally).
Recently, I was watching a repeat of Hello Dolly! (the Barbra Streisand movie) on PBS when my girl walked in. Catching the music, you could see it was almost like I had hooked a fish ... she was simply drawn ... eyes and focus totally on the television, she sat and watched ... visually taking in the sight of the costumes and the dancing ... her whole body reacting to the music.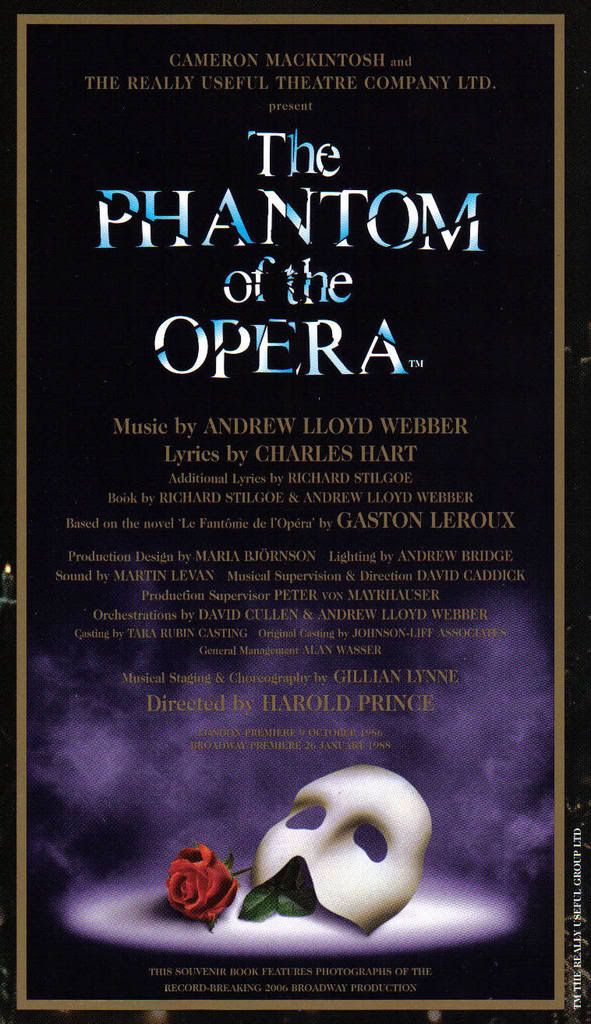 One musical that has totally captured her is Phantom of the Opera. My dvd of the movie version was captured and lost to the realm of her bedroom and dvd player. My CD of the musical highlights was stolen and it's music was ripped and copied to computer and MP3 player. To say that she loved this musical would have been an understatement. So, when the Broadway Company brought the Phantom to our own Tulsa Performing Arts Center this summer, you can imagine the conversations that took place.
"No, seriously ... I NEED to see it."
"I understand that darlin'."
"I'm going to die if I can't see it."
No ... there's no drama queen blood running through her veins. Nope. None at all.
For a month, she and I bounced the possibility back and forth, talking about it, trying to determine if it would be possible, scouting seats online and checking prices. Yet money is tight.
The decision came down to this ... do we spend the money to see Phantom of the Opera or do we save the money and spend it to take a day trip up to Kansas City in October and see the Broadway production of Lion King?
Yeah ... that was a tough one. I did mention, didn't I, that the child has adored Lion King since it's inception when she was THREE YEARS OLD?!
After grumbling and mumbling, and may I say a VERY nice moment of pouting (the child could win awards with the way she tucks that lip when she pouts) ... my girlie was the one to make the decision. We would save our money and try to see Lion King.
Then a local television show ... one of those "what's going on in Tulsa" type programs ... announced they were going to give away two tickets to Phantom of the Opera.
Got any ideas what might have happened next? To say that she was DETERMINED to win these tickets would ... again ... be an understatement. She WAS going to win. She and I were going to see Phantom of the Opera. That was the only thing she would accept. There would be no alternative. Failure was not an option, was not something she was going to even begin to think about.
Do you know that she did it? Yep. With the help of speed dial and some assistance from her mom, my girlie won two tickets to see her first Broadway musical live and in person. Her glee was simply infectious.
It was a warm Tuesday night, but there was a nice breeze. As Baby made her way on the highway towards downtown Tulsa, my girlie kept up a constant chatter. Excitement seemed to shimmer off of her face and thread it's way through her voice. Even when the conversation actually veered away from the upcoming musical, you could still see and hear her anticipation. It was like a cloak surrounding her and she was holding it close.
We parked. She picked the lot. There were actually a couple closer that cost the same amount but I think that one was picked because it was closest to where we were and she suddenly needed to be out of Baby and heading into the theater. It was her night, so I just laughed and parked and locked up my Baby as my girlie grabbed my hand and began tugging me towards the theater.
She skipped. It was only once but she did. It was as though all of her delight simply could not be contained in a simple walk as we approached the doors amidst the crowd of other theater goers. I swear her face was actually glowing and my only curse on the evening was for the fact that I failed to take a picture of her under the marquee proclaiming it was now showing "PHANTOM OF THE OPERA".
We stopped and I purchased programs for both of us. She clutched hers tight to her chest. It was so evident that she wanted to look at it right then, but knew we needed to get inside.
We made our way to our seats. They were actually really good ones, up on the mezzanine but the stage was clear and easy to view. The nosebleed section was still further above us.
As soon as we sat, the programs were devoured. Having seen the movie, my girlie knew the basic story. Her biggest concern was how they were going to do water on the stage for the scenes under the opera house. (I should point out here that I had actually already seen the Broadway production in Dallas. It was in March of 1993 but I remembered it still like it was yesterday.) I simply smiled at her and told her to watch and see.
As the musicians began to warm up, my young band geek emerged and she began to explain to me the number of musicians in an orchestra for something like this, letting me know it was a flute warming up, giving me tidbits on piccalo players needing earplugs when they practice because of the shrill notes, and so on. I recognized the nervous chatter for what it was - a passing of the time before THE EVENT. I enjoyed it.
After a brief introduction and some announcements by a theater official, the lights dimmed and the play began. From the first note of the Overture, I couldn't help but feel her exuberance. She practically trembled. Sitting forward in her seat, leaning slightly towards the stage, face rapt, eyes glued ... the soon-to-be 17 year old reflected all the intensity of that 3 year old watching Lion King, the movie, so many years ago.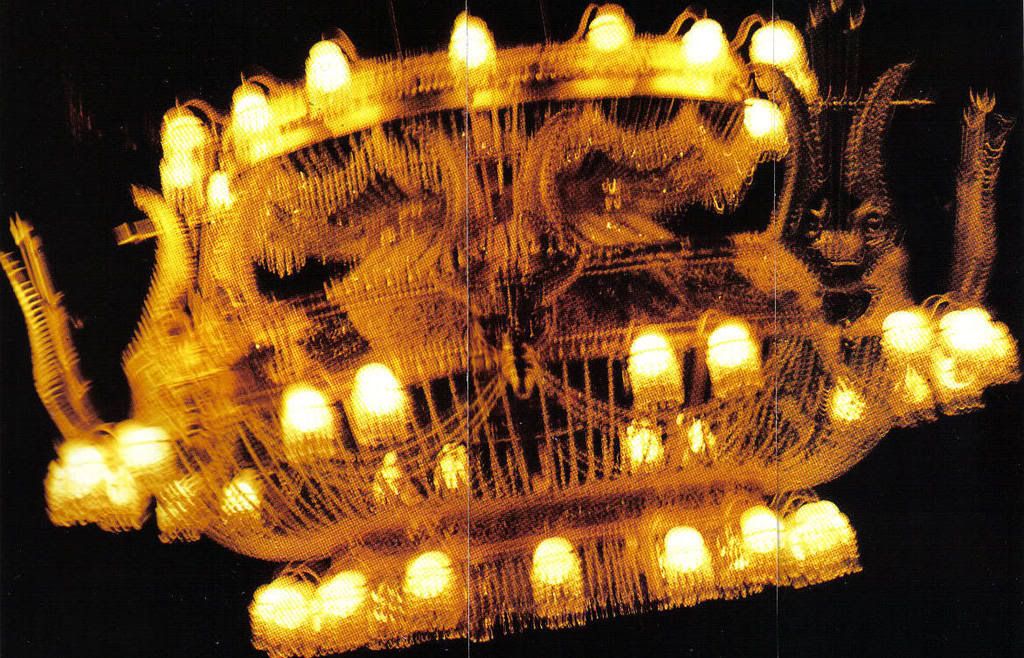 Watching her became as much fun as watching the activity on the stage. When the fog began to flow and the shimmer of candles began their watery effect across the shining stage, it was easy to believe that they had flooded the stage with water for the scenes of the labyrinth under the opera house. The comic moments were enjoyed, the cacophony of the singers during the "Notes/Prima Donna" scene in the managers office was mind-boggling, the crashing of the beautiful chandelier was amazing, the breathtaking beauty of the masquerade ball was entrancing, the heart pounding of the Phantom's own heartbreak during "The Point of No Return" and the subsequent chase back underground was simply incredible. The word "timeless" is so apt for this musical.
It was ... simply put ... beautiful - both visually and musically. Words fail to convey what the eyes and ears witnessed.
My girlie's face said it all though. With shining eyes and glowing smile, she was able to convey what words would fail.
She loved it. It was an experience that will last for a very long time. The fact that I was witness to it was a blessing and a memory I will forever hold close in my heart.
Right next to the one of a 3 year old in a dark theater watching animated animals sing and dance about the Circle of Life.