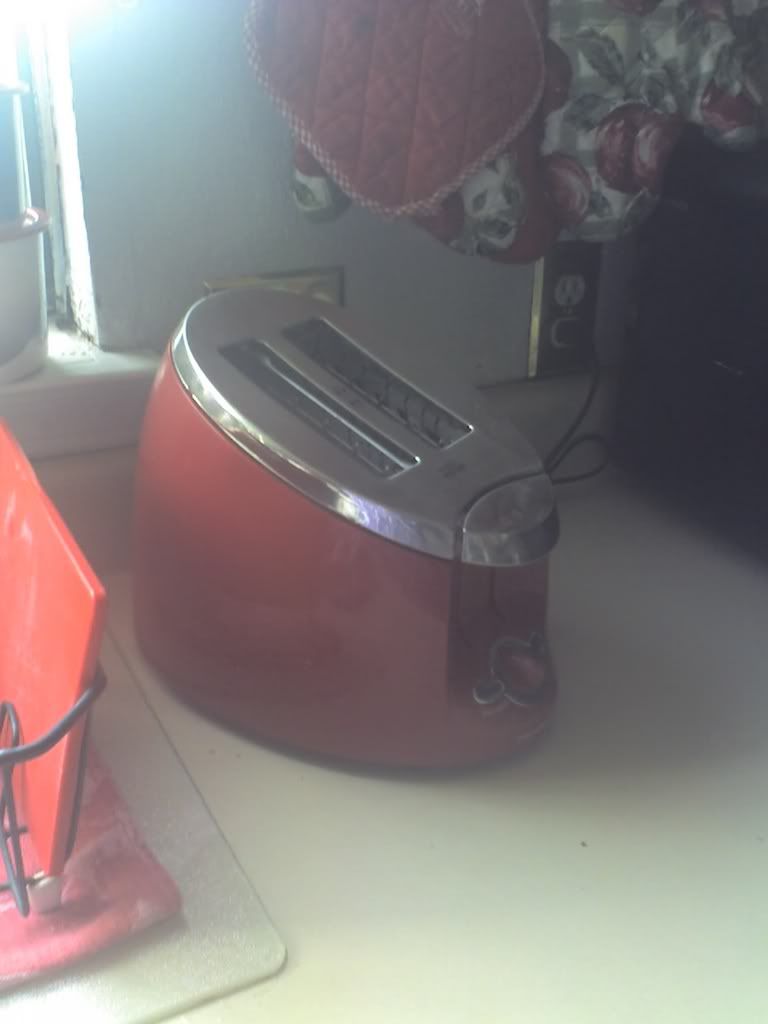 Psst.

I have a confession to make.
I absolutely adore getting new kitchen gadgets. New kitchen appliances can make my head spin with happiness.
Last year my delight was extreme when I discovered my Hamilton Beach toaster. I couldn't get home fast enough to toss my little Rival toaster out to the garage sale box and plug in my new beauty.
Can it get any better? Oh yes, it can. This beautiful toaster has a little tray underneath to clean out those pesky crumbs, she does bagels and english muffins, and the uniqueness of her angled top is simply beautiful to behold.
Yes, appliances are such fun to use. My breadmaker is my weekend treat. My Mickey Mouse sandwich maker is guaranteed to bring a smile to anyone eating a grilled cheese sandwich. My little Sunbeam Oskar is old but still chops and dices like the pro that it has always been.
A journey to my parents house brings a smile when it includes a trip to The Kitchen Collection outlet shop. My paper thin chopping surface, decorated in apples is such fun. My spoonulas are tested to 450 degrees and I use them religiously. My small metal colander (in red!!) is so cunning and useful.
The problem with my little obession is that I don't always have the funds to allow myself to go crazy. Probably a good thing. I have my list going though ... a new griddle to replace the one that finally died for usage last year (it was only 20 years old - it had a good life) ... and electric skillet to replace the one that has decided it no longer wishes to be non-stick (an unpardonable appliance offense) ... a standing mixer (Kitchen Aid - if I'm going to do it, I'm going to do it right) ... I could continue but I don't wish to appear too overly obsessive.
Anyhow ... always being on the outlook for something new to add to my kitchen fun ... imagine my delight when this morning I sit down to watch America's Test Kitchens. Not only have I now learned how to make the perfect scrambled egg, I have also added the Calphalon Large Nylon Slotted Spatula to my list of things that I "simply have to have". At $4.99, it should easily fit into my budget. Now ... about that Kitchen Aid standing mixer ... do I get it in red to match the toaster and colander or should I get it in green as an accent?
Decisions, decisions, decisions.