You know ... one of the things I love about the show Supernatural is Dean's love for his car and the fact that that vehicle is more of a home for him and Sam than anything else. It was passed to him from his father and it has faithfully taken him on his journey. She has been his companion for many years, including the years Sam was at Stanford.
*mumblemumble* years ago ... I learned to drive while my family was living in Minnesota. To commemorate my newly licensed status, I was given the keys to our family's 1965 Pontiac Starchief. All metal (real metal - no plastic of any kind on this baby), pale yellow with gold interior, this baby had 4 doors and enough room inside to carry 8 high schoolers comfortably - and frequently did. She also had a heater that could melt the Alaskan tundra and a steering wheel that seemed to have come from a semi-truck, it was so huge. As for the trunk, well, let me just say that Dean & Sam would love that trunk - if you Supernaturally know what I mean.
I loved that car.
That car began my journey through my *mumblemumble* years of driving and my pleasure of being behind the wheel.
In addition to loving my car, I really love to drive.
(Before I go further, I'd just like to point out - I love my cars and I love to drive. That's as far as it goes. What happens under the hood belongs to someone else, because aside from "the basics", I have no clue.)
Unfortunately, my time with my beloved Starchief didn't last too long. She was old when I received her keys and after a year of faithful service we found out she was too ill (cracked frame) and unable to make the journey when our family had to move from Minnesota to Texas.
I didn't even get to say good-bye properly.
After arriving in Texas, I became the proud owner of a zippy little Pontiac Ventura - two door. Cherry red with a white vinyl roof, white seats and black carpet and panel, this little car took me everywhere a high school senior and a freshman in college would want to go. She didn't carry as many friends, but she was faithful and I loved her. She was also very protective - keeping me safe when we were hit on the side and thrown into a yard across a busy street. After a bit of time in the shop, she was returned to me and we resumed our travels together for a bit.
However, time came for me to leave home and go away to college my sophmore year. While she was pretty and zippy, my parents wanted me to have something more reliable for traveling those long roads to and from college and home. So, my little Ventura was traded in for a sleek burgandy red Chevrolet Monte Carlo - inside and out. I hated giving up my Ventura, but I spent alot of years (10 to be exact) with my Monte and I have to tell you - she was a treasure to drive. We traveled everywhere, together constantly. My favorite place to study while I was away at school was at a park some distance from campus. I would drive there and either sit inside my car or on the trunk, enjoying the quiet and ready texts. There was also the fact that I could fit my entire dorm (and later apartment) room inside her at the beginning and the end of each semester I was away.
After leaving school, I became a nanny for a wonderful 3 years and my little one and I traveled the roads of Texas - Dallas, Austin, San Antonio with regularity and safety - enjoying the freedom that being in a car brings. My Monte was swift and always filled with music and laughter during those times.
Leaving my little one, and Texas, my Monte and I moved onward to Springfield, MO. It was late in her life and she had a few growing pains by now - the crank to roll her window up and down had broken off and had to be held on each time I wanted to use it. The door handle was broken and required shifting across the seat. The cushions were worn and the engine was tired, but still, we managed to have some good times going to the lake and around town, as well as making a couple of trips back to Texas.
However, when the time came for me to move yet again, she just wasn't up to it. My father surprised me (on my birthday, no less) by taking my keys and giving me another set to a little gray Pontiac Sunbird. My little bird and I flew together for 7 years. Over the roads of Oklahoma, with trips to Missouri and to Texas. I loved driving her. She didn't have the larger engine, but she was cute and quick and trusty. She was also the car that my girlies, all three, first traveled in with me. Adventures to parks, back and forth to home and around town. Her four doors made it easier to get two squiggly little girls and their big sister in and out.
I have to admit though, I was a bit unfaithful to my little bird. I ashamed to admit it. However, at the time, I was working for a car rental company and one of the "perks" was the ability to rent cars (like convertibles) for employee rates. During one of these rentals, I fell in love with a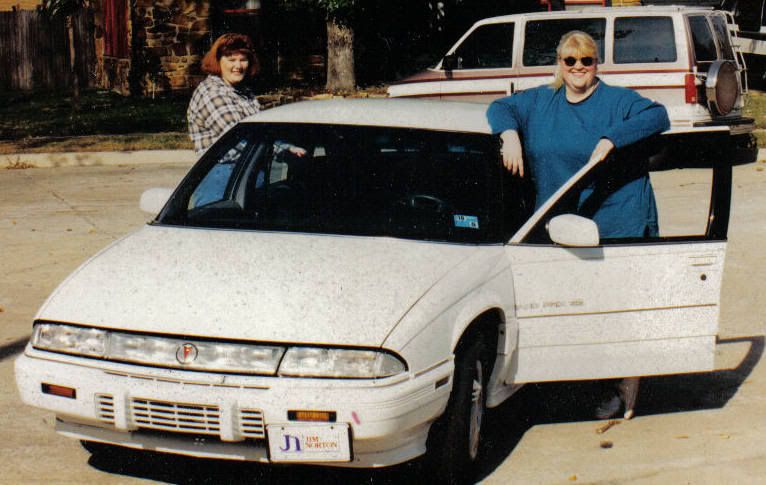 nother car ... a Pontiac Grand Prix. Oh. My! So sleek, so pretty and soooo incredibly fun to drive. I loved my little Sunbird, but ... oy!
The opportunity came when our employee owned company sold and we received payment for our employee stock options. I was able to use that money to buy the car of my dreams. My little Sunbird was 11 years old and had been my faithful companion for the last 7 years of it's life. It was time. After searching car lots all day, my friends and I tried "just one more" lot. It was late, we were all tired, the girlies were hungry. We pulled into this lot and there she was ...
White with grey interior, the bucket seats shot through with rainbow thread, giving them a muted multi tone. Center console gear shift, cassette player, four doors, roomy trunk and an engine under the hood that my friend's husband pronounced in "good shape". She was a dream come true. Everything was the same as the rental I fell in love with, right down to the color - inside and out. I drove her off the lot that night. It was November 1, 1997.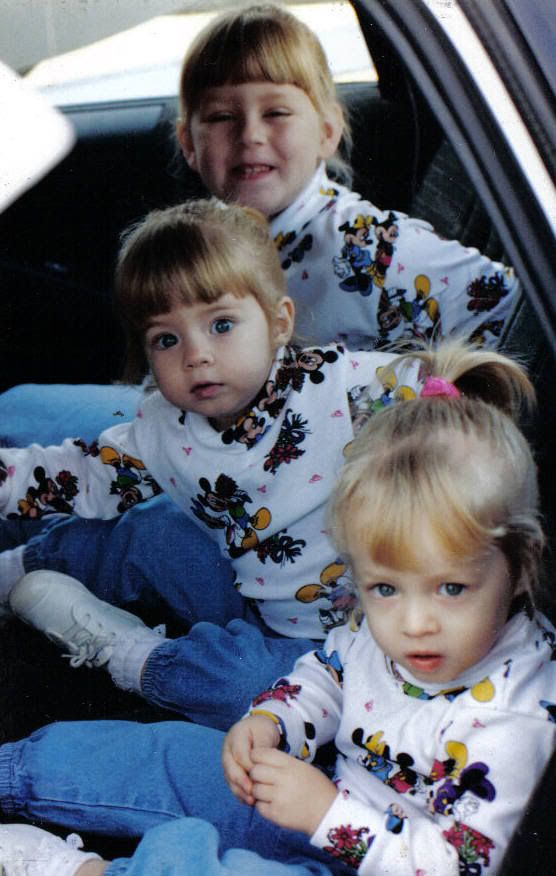 The adventures we had were many. She took me everywhere. Few and far between were the days we weren't together in some capacity, for some distance. She traveled with car seats & booster seats. She lived through spills and toys and happy meals. She traveled to the lake, to Texas, to where ever I needed to go. She provided music and happy times.
And in the end ... 10 years, 1 month, 17 days later, she protected me and kept me safe on a dark winter night during my accident with a jeep.
Over the *mumblemumble* years, I have enjoyed driving. The memory of each car holds a range of emotions. The laughter of 3 teenage girls sitting in the front seat, heading to the mall. The nervous anticipation of a freshman going to college for the first day of classes. The tears of sorrow at leaving my "original girlie" and moving far away from her. The exhilaration of rushing to the hospital for the birth of later girlies. The frustration of job hunting after being laid off. Each car became more than just a vehicle of transportation, they became a companion in my daily life ... a place where I could have a few moments of solitude in the morning before starting work, a place where I could relax and unwind on my way home. They provided me with opportunities to visit family and friends and I reveled in the travel time - where I could sing at the top of my lungs and no one would care, or I could drive quietly without music - simply one with my thoughts.
So ... here I am ... reminiscing and saying good bye to my old friends, faithful companions.
And saying hello to someone new ...
Meet "Baby". My new companion, my new car. Appropriately

named by my mother (who, ironically doesn't know anything about the fact that Dean calls the Metallicar his baby) she is sleek and sweet. A 2007 Pontiac Grand Prix - smaller and more compact that her older sister - with a sunroof and CD player and something even sweeter ... a control panel that lets me know when she needs oil and fluids and air in her tires, etc. I'll admit, we're still getting to know each other ... but so far ...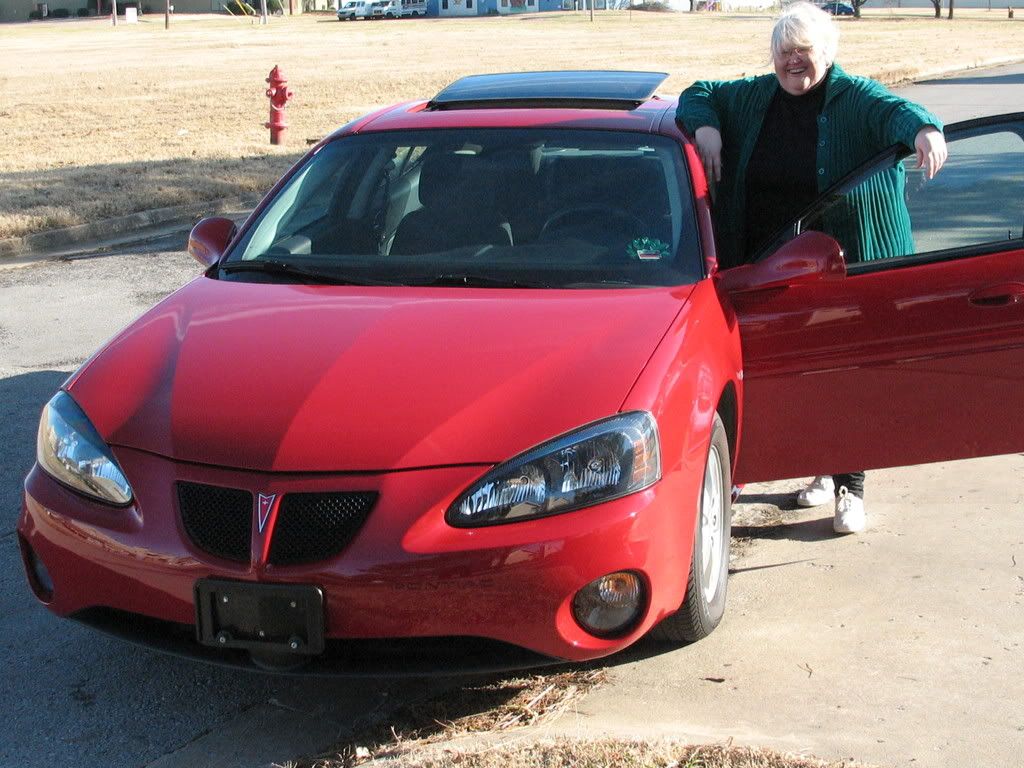 ... the drive has been smooth. What more could I ask for?