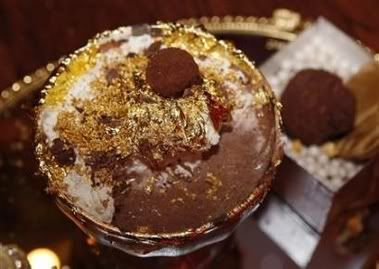 I love chocolate. Anyone who has met me - in real life or virtually - knows this. It's not a hidden fact. Whether it's a bag of M&Ms, a Hershey bar, a slice of pie, a bag of Oreos, a box of Russell Stovers, a homemade brownie, a bon-bon from Godiva or simply, in a moment of desperation for help with a chocolate jonesing - a handful of chocolate chips straight from the bag, I love it. I enjoy it. I savor it. I can make it last. I have a way to make a large 1lb bag of M&Ms last a week - I eat one color a day.
White chocolate is good. It doesn't create the craving that regular chocolate does and it doesn't completely satisfy the way regular chocolate does, however it's good. I like it. I enjoy it. More to the point, I don't turn it down when offered.
Dark chocolate is ... in my opinion ... heaven. When they made dark chocolate M&Ms, I felt I had actually gone to heaven. I know that dark chocolate is all the craze now, what with it's lower fat counts and antioxidants, but ask my mom - I was sneaking chocolate chips since I was my girlies age. Dove chocolate was one of the first to package bite size pieces individually. I decided they were my heroes. There's something about dark chocolate that cannot be described, rich and appealing as it's silky smoothness melts in your mouth.
Excuse me, I need to take a moment and have a chocolate break.
One of my favorite movies is "Chocolat" but the reasons for that are a whole different blog and no, it's not just because it includes Johnny Depp. (Although that doesn't hurt.) In the movie, the chocolatier uses a special chili pepper in preparing her chocolate treats. I've always wanted to sample some of them - they look and sound delightful.
Now, in honesty, I must admit I am not a big chocolate ice cream eater. Through the years, my steady favorite has always been a double dip cone - bottom scoop regular chocolate chip and the top scoop mint chocolate chip. Regular, full-on chocolate ice cream just isn't my cup of tea. Unless it's a particularly intense night of Supernatural, and then, I will admit that nothing helps better than Ben & Jerry's Double Chocolate Fudge ice cream. Seriously.
I also tend to have an issue with chocolate pudding. I like it. I do. I will make it and enjoy it. However, again, in all honesty, if it comes to ready made pudding - vanilla is better. It's true. Still, chocolate pudding is something I indulge in from time to time.
Chocolate is a comfort food, a tasty treat, a moment of sinful decadence. It has been and will continue to be something I truly enjoy. In moments of low cash flow, I am content with my M&Ms. When I have saved and can splurge a bit, it will always contain a form of chocolate.
Yet, I have to admit I have found a chocolate that actually repulses me. I have no desire to indulge and the idea of it is repugnant to me. Not due to the taste, for I have not tasted it. I don't plan to, even if the opportunity were ever to arise. There are times when even I, in my chocolatey goodness loving, simply cannot find the justification.
Just last week it was announced on the news that a restaurant in New York City has made it into the Guiness Book of World Records for creating and serving the most expensive chocolate dessert. For $25,000.00 you can have your chocolate mousse-like dessert (see above picture), a blend of some of the most expensive chocolates from around the world, in an edible gold bowl, the pedestal encircled with a gold and diamond bracelet and served with a special gold spoon encrusted with diamonds. (For purchasing the dessert, you get to keep the bracelet and the spoon.)
Now ... I'm not dumb. I realize that the $25,000 isn't just for the chocolate that will be eaten, that a good portion of the cost is for the pedestal bracelet and fancy spoon. Without those, I'm pretty sure the dessert's cost is not going to be $25,000. However, that's not the reason for my being repulsed by the thought of this chocolate.
I simply can't wrap my mind around the thought that anyone ... anyone ... could justify in their minds the fact of spending the amount of money it would take to purchase a car, to purchase a small house, to partially put a child through college on a dessert! The cost of this chocolate is more than many, many people make in a year. My mind cannot wrap itself around any type of reasoning that would justify spending that amount of money for a dessert that takes about 15 to 30 minutes to eat, has no nutritional value, and ... well ... let's face it, doesn't stay with you.
That's not decadence. That's depravity.
My prayer is simple. If fortune were ever to befall me, I pray that I have the intelligence to continue to enjoy my M&Ms and use that money for something a bit more worthwhile.